My Cusco LSD has finally been delivered.. Glad to see that i got what i ordered: part number 130 L2. Now let's hope that it fits my Corona T130 axle.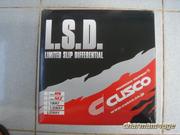 Installing the LSD will have to wait until my engine starts. Will need to do more research on LSD oils, but most probably i'll go for Motul 90PA LSD Oil. I heard they perform well and help reduce LSD noise.
Meanwhile, just acquired my driver's seat today! Seeing that red Bride seats match my black Charmant on
my photoshop wallpaper
, i decided to get those. Recently, a used Bride Pros seat was for sale. I waited until the seller finally uploaded the pics and when i saw that it was red, i hurried made an appointment to see the item. Dad helped me check the item in Jakarta and with one quick glance, the seat was mine. One minor defect on the back but overall, the seat was in excellent condition.
Looks like someone beat me on the race to drifting.. Cute hat mom..
More pictures of the seat below.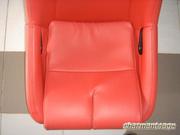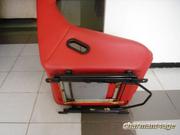 Keeping my eye out for the passenger's seat. My target would be similar colored Bride seat, only this time will be recline-able. Red Bride Ergo II replica looks good and budget-friendly. Let's see if i can find green Takata safety harness to match.