Some parts on the EFI system have certain ways to be wired, i.e you can't just wire it the way you like it and some just don't care how you wire it as long as you do. This part is to show you the pinouts of the first group of stuff.
Click on each pic to for better view.
IGNITER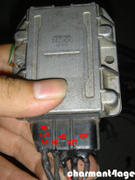 THROTTLE POSITION SENSOR (Connector View)
IGNITION COIL (Connector View)
MAP SENSOR
OXYGEN SENSOR
I am not using OEM Oxygen sensor which i believe is a two-wire type (confirm this please?). I am using a four wire O2 sensor taken from Kia Carnival and here's the pinout based on wire color on the sensor.
I won't be using the heater so i'll just use the two remaining: signal and earth.
DISTRIBUTOR
Above you can see the mess i am facing on doing the EFI wiring. That's how the wiring done when i got the engine. Let me describe a bit what i found inside the distributor. There should be 4 cables coming out from it: G1, G2, NE and G-. Once you open the distributor cap, you should see two pickup coils immediately, placed 180 degrees opposite each other and each has two cables coming out of it. Those are are the G1 and G2 pickup coils and you need to combine one cable from each pickup coil to form the G-. The remaining cables from each pickup will be the G1 and G2. I don't know which is G1 and G2 and also don't know if they're interchangeable. That's why i label them Gx and Gy on the diagram above. I am inclined to think that G1 and G2 are not interchangeable. G1 should be the pickup that lines up with the 1 tooth sync wheel at cyl 1 TDC compression. G2 should be the pickup that lines up with cyl #4 (360° crank from G1) TDC compression. Using that info, then Gx should be G1 and Gy should be G2 but don't quote me on this.
Now that we've got G1 and G2, NE would be the two cables coming out from the behind the rotor plate, you won't be able to see the NE pickup coil if you just open the distributor cap. The cables should be yellow and white. Yellow would be NE and white would be G- which should be combined also with the G- from G1 and G2.
So basically, there should be six cables and three will be combined to form G-. The other three will be G1, G2 and NE!
I think that's all the stuff that you need to be careful when wiring them in.
These following parts are non-polar, meaning you can wire them anyway you like it.
- Water and Intake Air Temperature Sensor
- Knock Sensor (only 1 wire so you can't be wrong)
- Fuel and Cold Start Injectors
- Start Injector Timing Switch
- Idle Up VSV